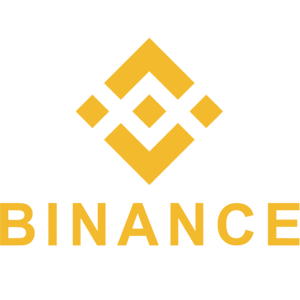 Binance Review
Malta
Founded:

2017
Max Leverage:

125
Very low fees
Ease of use, quick trading times
Ability to buy and sell crypto with fiat
Wide range of cryptocurrencies
High liquidity
One of the most innovative exchanges
Binance is a leading cryptocurrency exchange for cryptocurrency traders and enthusiasts looking to buy and sell a wide variety of cryptocurrencies at low fees.

Led by its charismatic leader Changpeng Zhao, its defining features are innovation and new features, proactive community, ability to buy bitcoin and altcoins with more than 40 fiat currencies, their own Binance Chain and Binance coin (BNB), Binance Futures and margin trading with up to 125x leverage, and vision to morph into a decentralized autonomous organization (DAO) in the coming future.

While its platform is capable of handling a large volume of trades without suffering a significant slowdown in transaction times, it does experience its fair share of issues from time to time, including unexpected maintenances and security vulnerabilities. Despite that, it remains one of the most important exchanges in the cryptoverse.
General info
Web address:

 Binance

Support contact:

 Link

Main location:

 Malta

Daily volume:

 366404 BTC

Mobile app available:

 Yes

Is decentralized:

 No
Parent Company:

 Binance Holding

Transfer types:

 Bank Transfer, Credit Card, Debit Card, Crypto Transfer

Supported fiat:

 -

Supported pairs:

 563

Has token:

 Binance Coin BNB

Fees:

 Very Low
Pros
Very low fees
Ease of use, quick trading times
Ability to buy and sell crypto with fiat
Wide range of cryptocurrencies
High liquidity
One of the most innovative exchanges
Cons
No fiat currency trading pairs
No phone for customer support
Experienced security breaches in the past
No privacy-preserving measure
Screenshots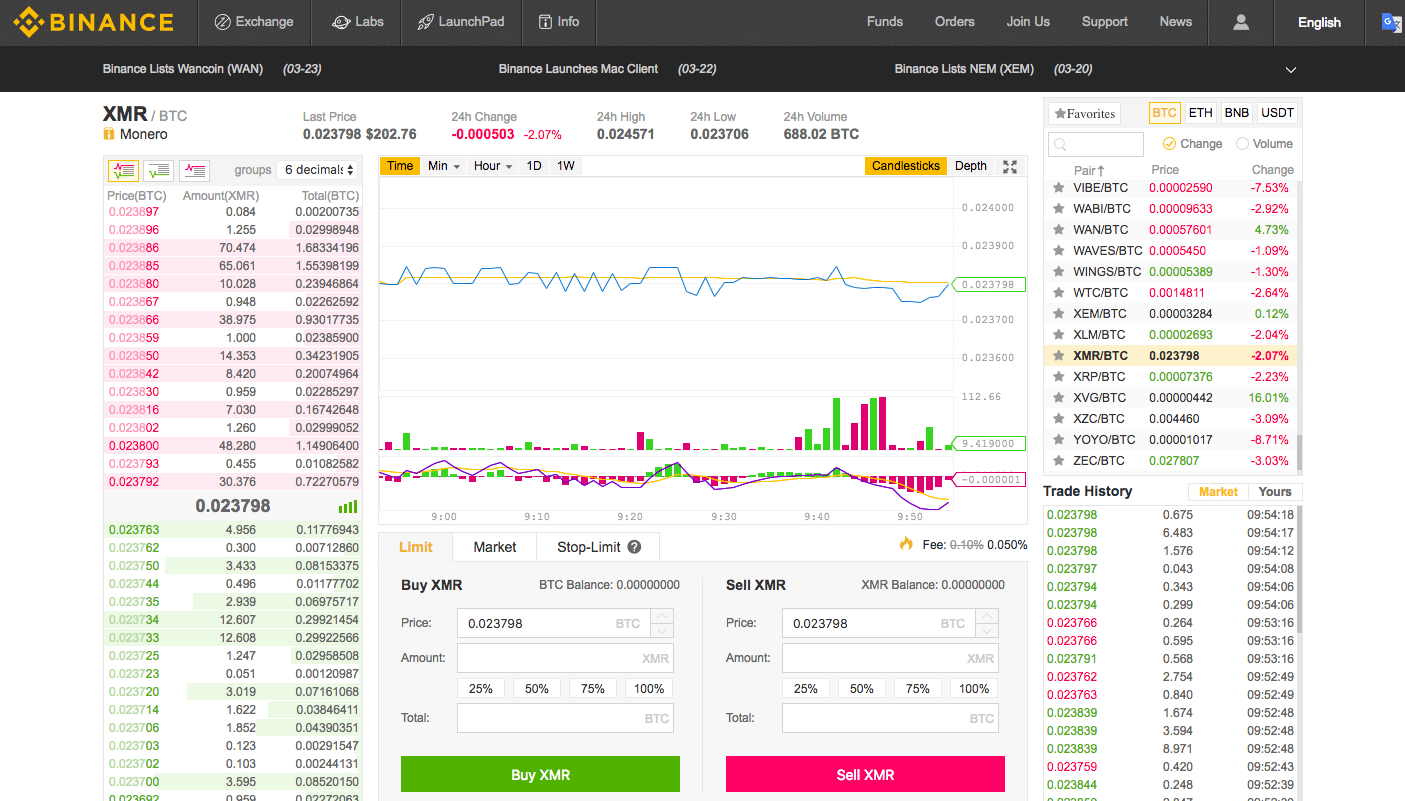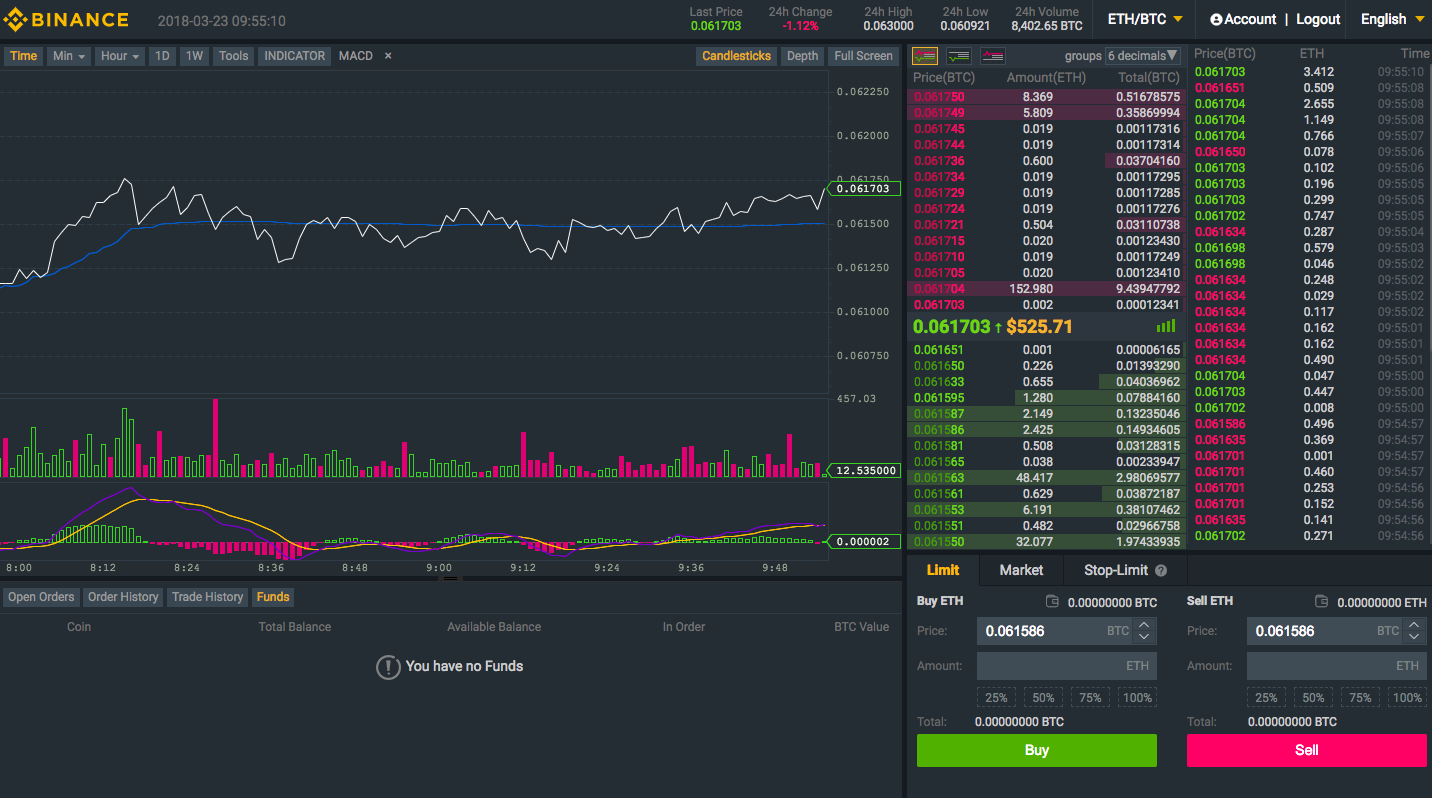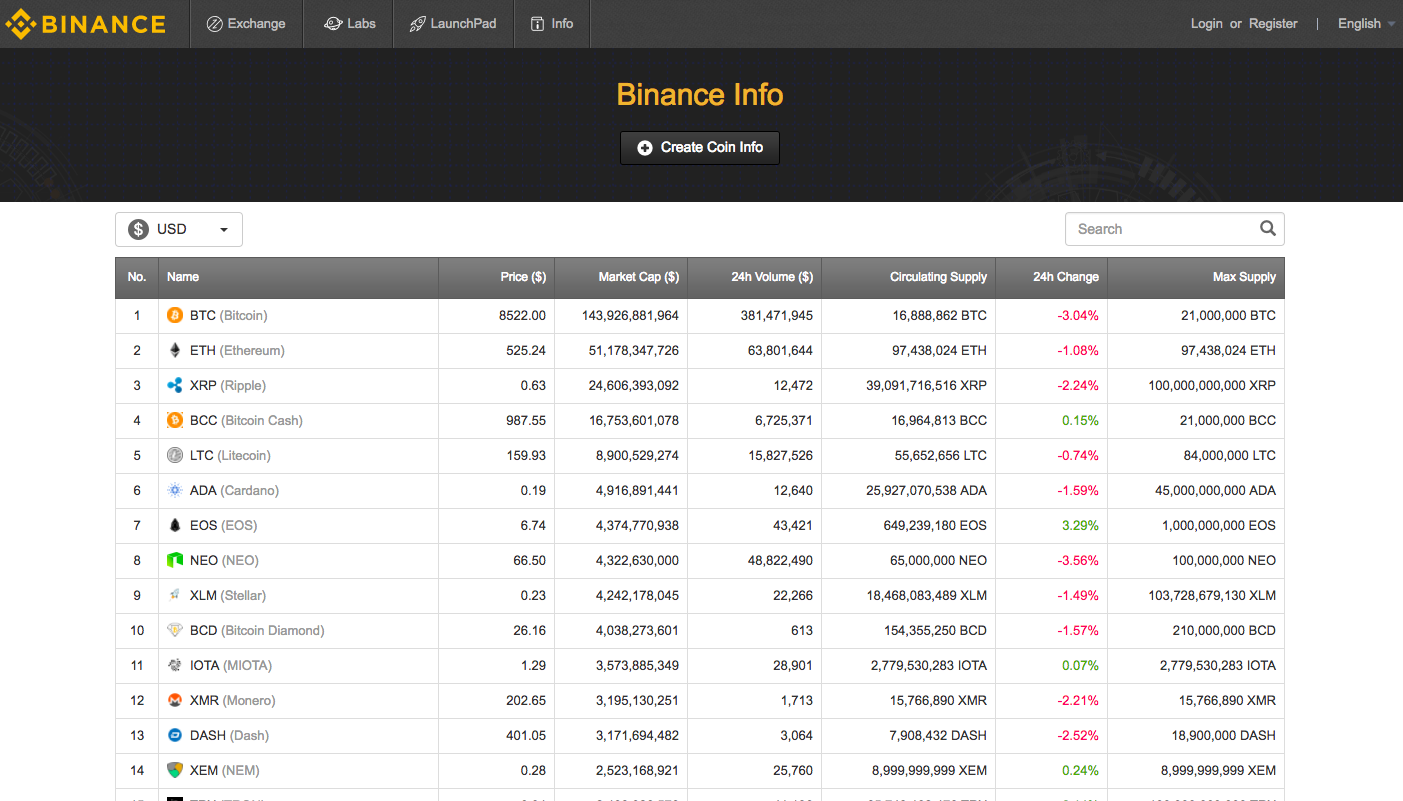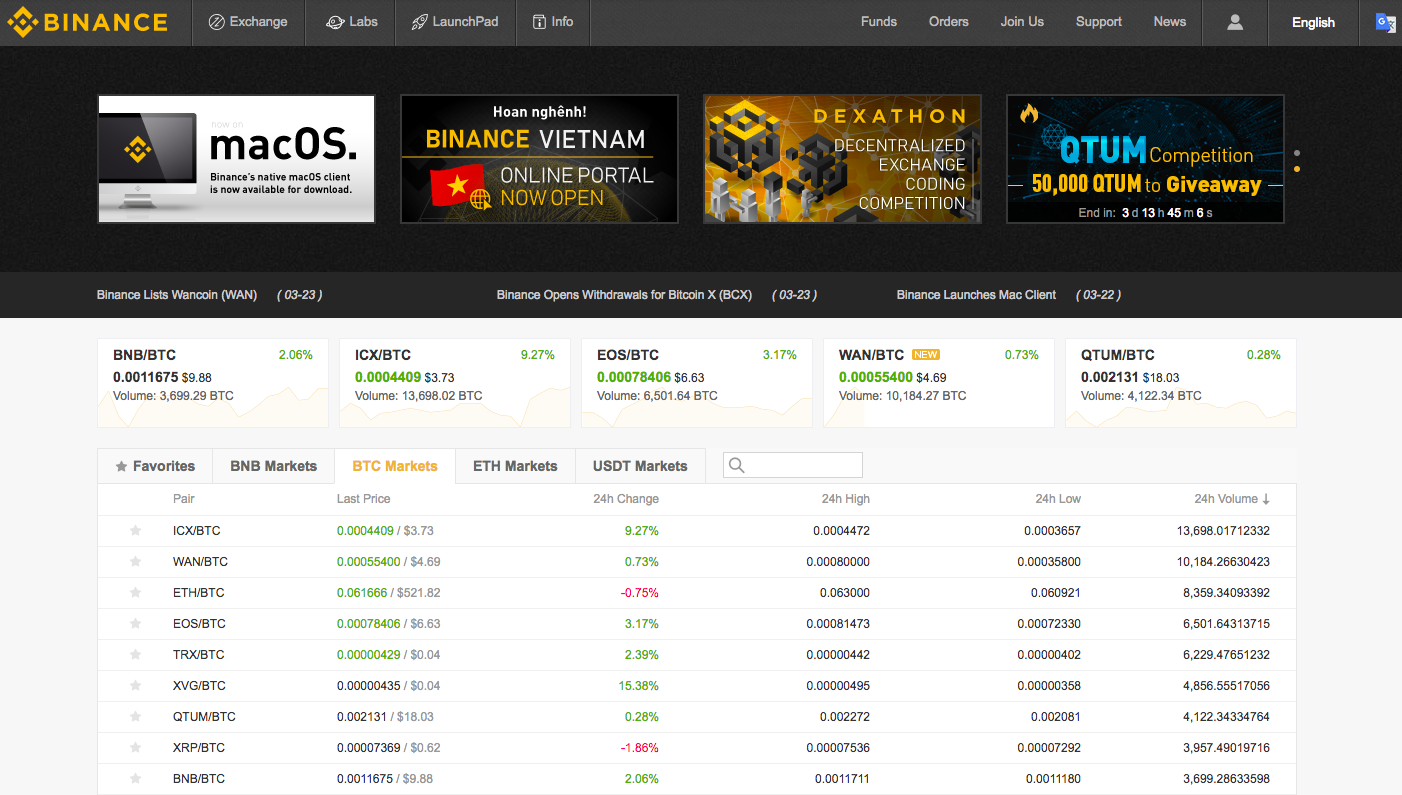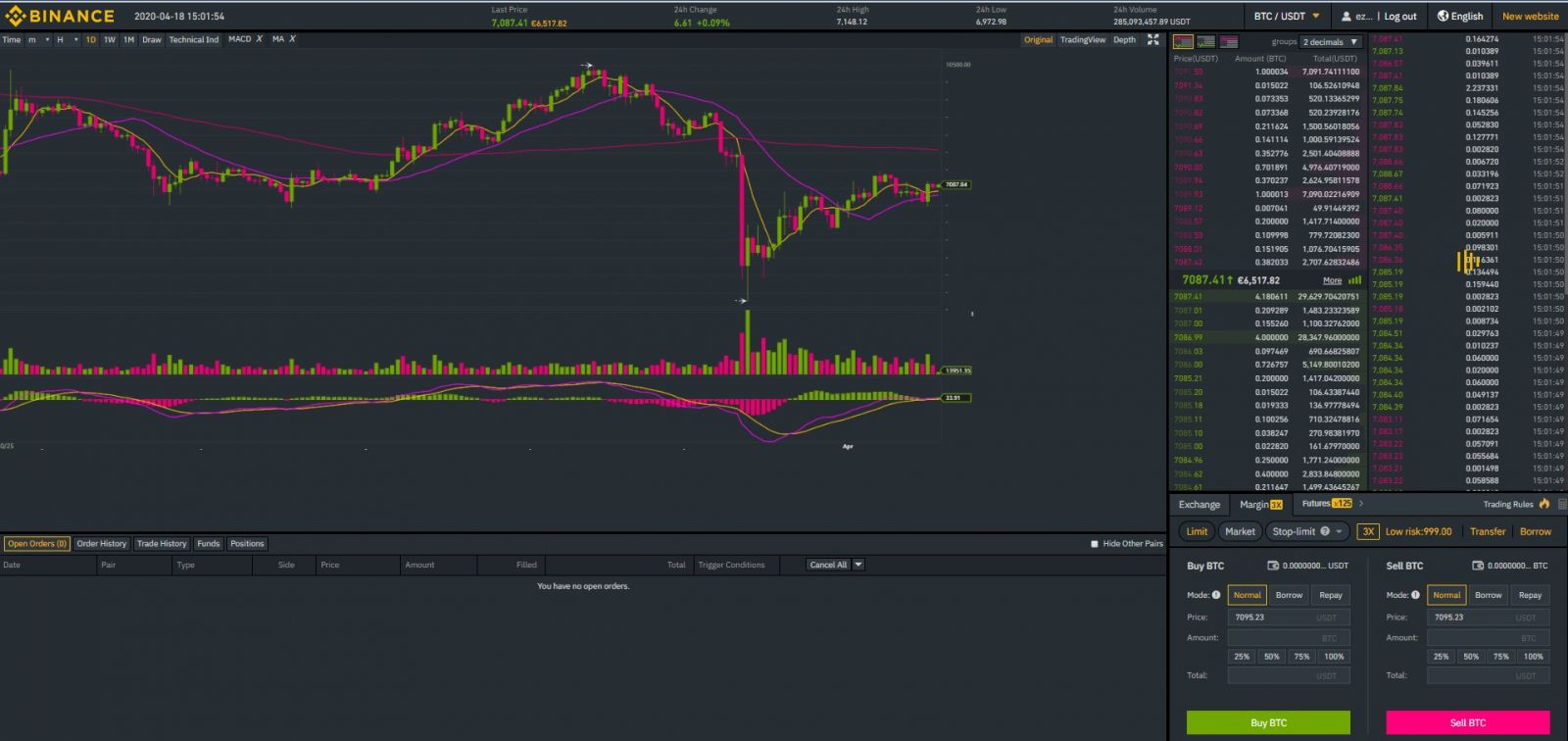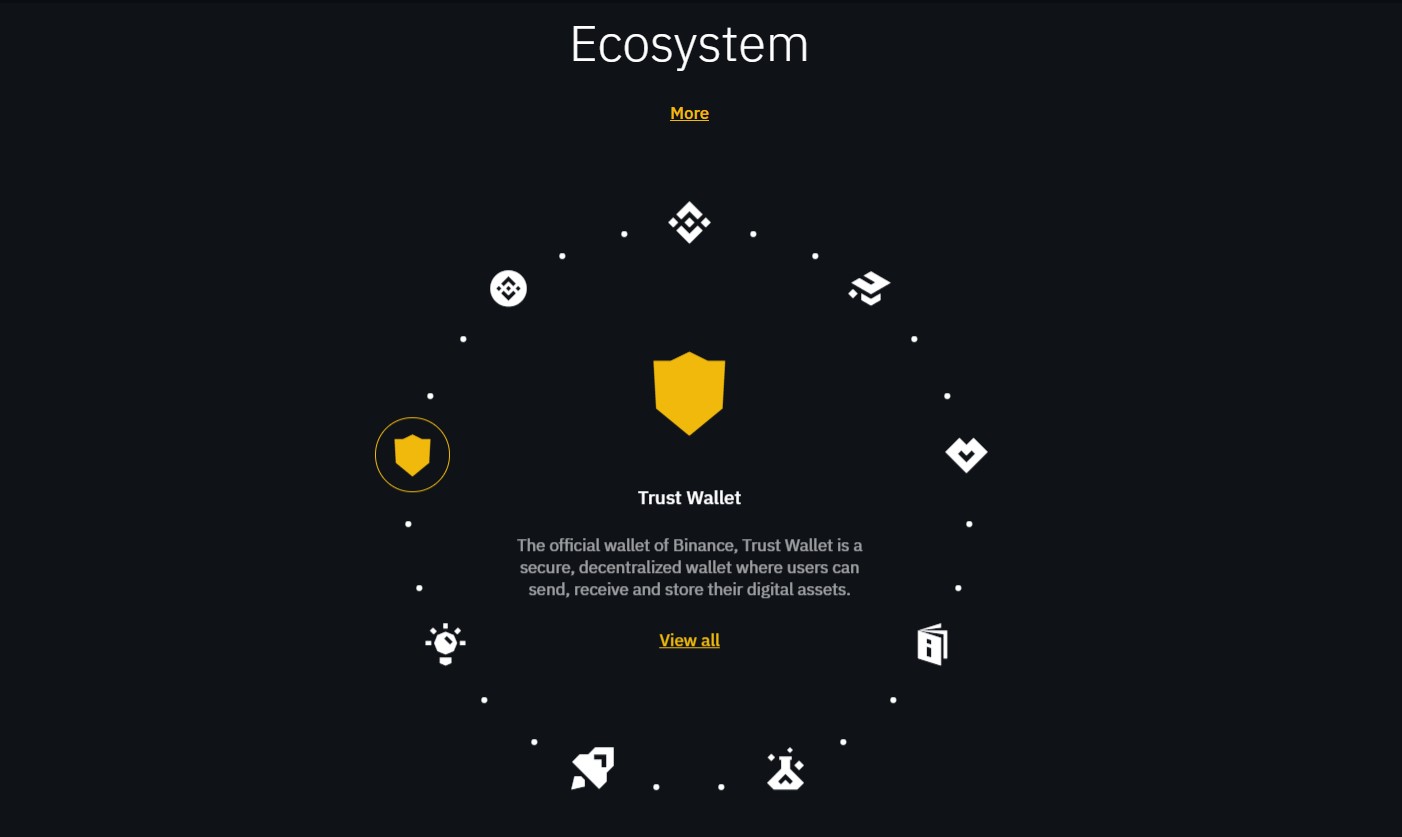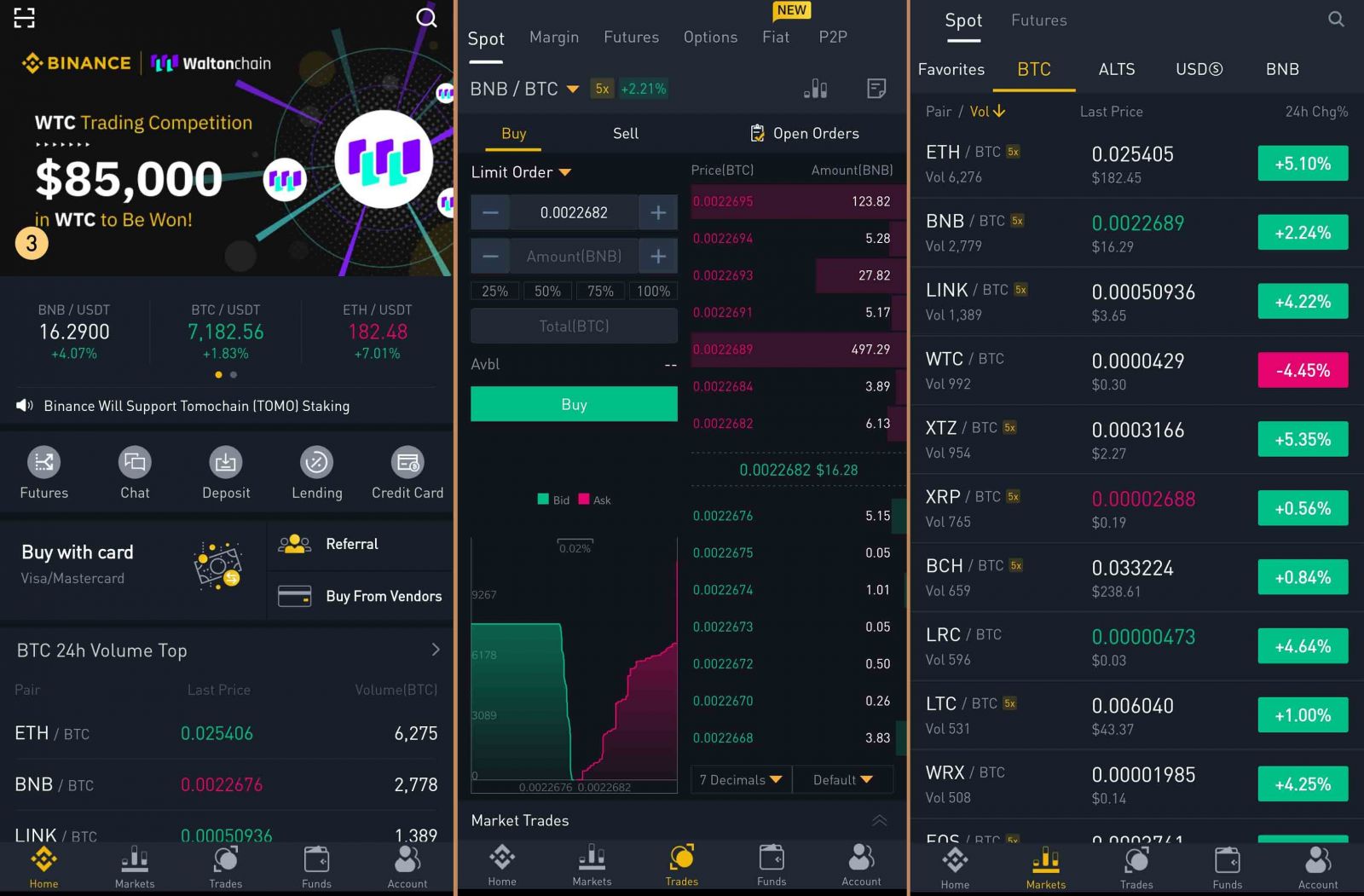 Binance Review: Key Features
Binance is one of the star exchanges in the cryptocurrency trading space. Led by a charismatic leader Changpeng Zhao, it's been up and running slightly over three years. Still, it managed to establish itself as one of the most innovative and open-minded hubs of crypto innovation.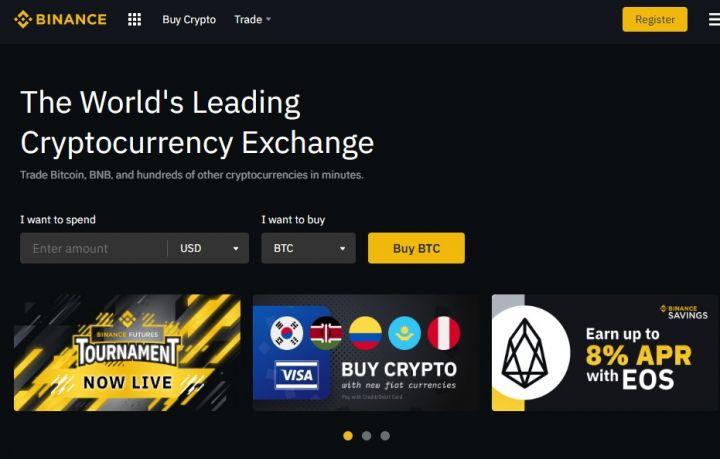 Binance's core features include:
Trade over 180 cryptocurrencies on Binance. Binance is one of the major altcoin exchanges with one of the best selection of tradable assets.
Binance Fiat Gateway. Binance lets you instant buy bitcoin and other 15 top cryptocurrencies with 40 popular fiat currencies using bank cards, cash balance, and other payment methods. Besides, you can sell them for some of the supported national currencies, too.
Low trading fees. Trading on Binance brings you some of the lowest in the industry.
Multi-platform support. Binance is accessible via its web platform, mobile apps for Android (including Android APK) and iOS, and desktop clients for macOS and Windows. Besides, you can make use of Binance API.
Binance Futures with up to 125x leverage and margin trading with up to 3x leverage. Trade cryptocurrency contracts and assets with leveraged positions for maximum returns.
Around the clock customer support. Binance has a dedicated help center, where you can reach out to the support team or real beginner guides and explanations of all sorts of exchange functions.
Binance Launchpad. All customers of Binance can participate in its initial exchange offerings (IEOs). Binance's IEOs are among the most profitable in the industry.
Binance Finance. Binance also supports staking, crypto lending, and other means of earning passive income from your crypto assets.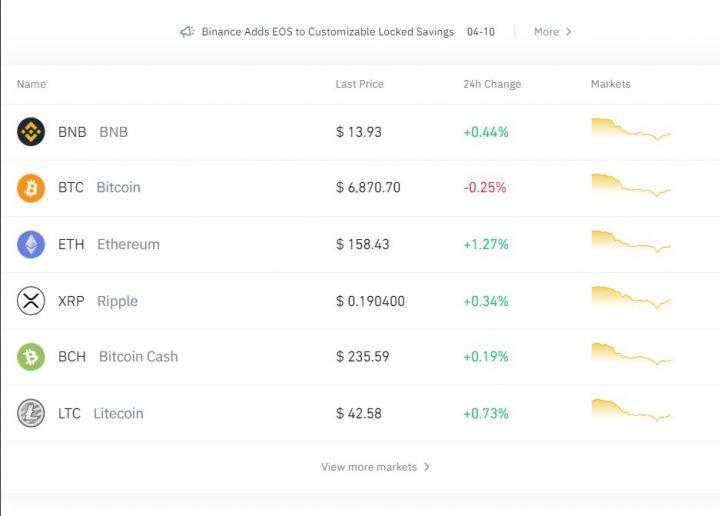 In brief, Binance is one of the most innovative cryptocurrency exchanges in the market. Binance developers and global community members continuously work to improve the ecosystem and popularize the use of cryptocurrencies globally. The exchange is a great trading option for both beginners as well as experienced traders.


Background
Binance is one of the newest, yet best-known major crypto exchanges around. It's been started with a simple idea in mind - provide a simple, intuitive, fast, and robust cryptocurrency trading interface.

Launched in China in July 2017, it has a fine crypto pedigree behind it: founders Changpeng Zhao and Yi He had worked previously at OKCoin exchange, while Changpeng had also been a member of the Blockchain.com wallet team since 2013.
Binance cryptocurrency exchange has proven to be one of the most successful ICO (initial coin offering) projects out there. Between July 1-20, 2017, the exchange raised USD 15,000,000 equivalent of crypto from eager investors. In turn, the investors received 100,000,000 of Binance Coin (BNB) tokens issued on Ethereum blockchain (now migrated onto Binance's native Binance Chain). The initial ICO price for one BNB was USD 0.115 per coin.
Ever since its launch, Binance has become the largest exchange in terms of the global trading volume. More surprisingly, it achieved this in just six months. It remains near the top today, something which can be attributed to its ease of use, its responsive ability to handle a large number of transactions, global approach to its business and platform accessibility in multiple languages (English, French, German, (simplified and traditional) Chinese, Spanish, Russian, Korean, Vietnamese, Italian, Turkish, Portuguese, Japanese, Dutch, Polish, Malay, and Ukrainian).
Although the company was founded in China, it moved its headquarters to Japan in advance of the Chinese government ban on cryptocurrency trading in 2017. In 2018, Binance established offices in Taiwan and announced its move to Malta. However, in 2020, Malta Financial Services Authority (MFSA) clarified that Binance is neither officially registered nor regulated in the country.
While Malta remains de facto Binance's headquarters, the company is incorporated in the Cayman Islands and Seychelles. Asides from that, the company has teams in California (United States), London (United Kingdom), Paris (France), Berlin (Germany), Moscow (Russia), Istanbul (Turkey), Singapore, New Delhi (India), Kampala (Uganda), Manila (Philippines), Ho Chi Minh (Vietnam), Jersey, and other locations in Asia. In total, its team is operating from 40+ countries.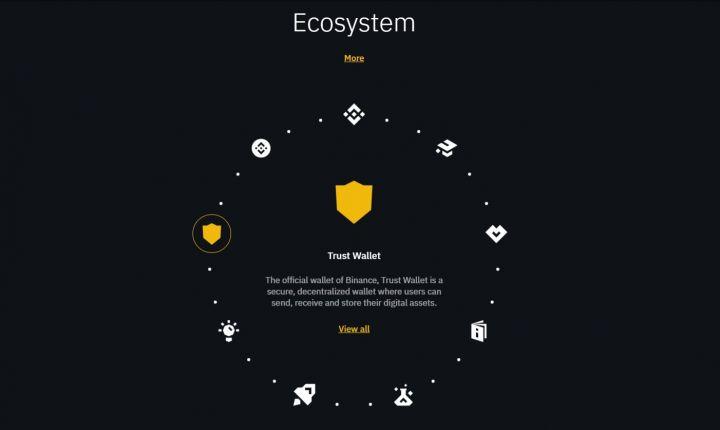 Today, the exchange has over 15 million users and settles more than USD 2 billion on an average trading day. Besides, it has evolved a suite of related products, including:
Binance Jersey. A European fiat-to-crypto cryptocurrency exchange that facilitates bitcoin (BTC), ethereum (ETH), litecoin (LTC), binance coin (BNB), and bitcoin cash (BCH) trades for euros (EUR) and pound sterlings (GBP).
Binance US and other localized versions of Binance exchange. Regulated versions of Binance exchange dedicated to certain markets with varying regulatory climates.
Binance DEX. Binance's decentralized exchange built on the Binance Chain.
Binance JEX. Binance's cryptocurrency futures and options trading platform.
Binance Futures. Binance's crypto-derivative platform that lets you trade futures with up to 125x leverage.
Binance Launchpad. Binance's crypto crowdfunding platform for launching top-tier initial exchange offerings (IEOs). Binance's launchpad was the first one in the industry and the exchange has popularized the concept.
Binance P2P trading. A peer-to-peer crypto trading platform like LocalBitcoins or LocalCryptos that supports payments via WeChat, AliPay, Bank Transfers, and QIWI.
Binance Crypto Loans. A feature that allows you to take out crypto loans secured by your cryptocurrency assets.
Binance OTC.Over-the-counter trading desk for whales and other large-volume traders.
Binance Savings. Ability to employ your crypto assets by lending them out to earn interest. You can withdraw your funds anytime.
Binance Staking. Binance staking feature lets you stake certain cryptocurrencies and reap up to 16% annual yield. Supported cryptocurrencies include Ark, EOS, ARPA, TROY, Lisk, LOOM, Tezos, KAVA, THETA, and more.
Binance Fiat Gateway. A fiat gateway that lets you purchase cryptocurrencies using your national currency (currently supports nearly 40 fiat currencies.)
Binance Chain and Binance Coin (BNB). Community-driven blockchain ecosystem with its own native token (BNB) and decentralized exchange (DEX).
Binance USD (BUSD) and Binance GBP stablecoin. Binance's regulated stablecoins, released in partnership with Paxos Trust Company.
Binance Academy. An open-access learning hub for blockchain and crypto education resources.
Binance Charity. A not-for-profit foundation dedicated to advancing blockchain philanthropy and sustainable global development.
Binance Info. An open-source crypto encyclopedia.
Binance Labs. Binance's infrastructure impact fund and initiative to empower blockchain projects.
Binance Research. Institutional-grade research platform conducting analysis for investors in the crypto space.
Trust Wallet. An official, secure, and decentralized wallet of Binance.
Binance Cloud. Enterprise cryptocurrency exchange solutions for cryptocurrency ventures.
Binance Card. A crypto payment card that can be used as a payment option for everyday purchases just like a regular bank card.
In 2019 and 2020, Binance made headlines for going on an acquisition streak and acquiring India's largest cryptocurrency exchange WazirX, Chinese dapp analytics platform DappReview, and the most popular cryptocurrency market data aggregator platform CoinMarketCap.
In the future, Binance has ambitious goals of morphing into a decentralized autonomous organization (DAO), enabling fiat-to-crypto trading for more than 180 fiat currencies, and fully open-source Binance Chain and its native Binance Coin (BNB).


Supported countries and Verification
Binance exchange is a global cryptocurrency trading company that operates in more than 180 countries. The only restriction applies to countries on economic sanctions lists or people on the U.S. Commerce Departments "Denied Persons List."
The United States citizens and residents can use the Binance US exchange. Other locations with a local version of the Binance exchange include Binance Singapore, Binance Uganda, and Binance Jersey.
Verification procedures and requirements vary according to your jurisdiction. First-time customers must go through one-time Know-Your-Customer (KYC) verification. It requires you to submit the following documents:
Government ID document (passport, ID or driver's license)
Residential address document (utility bill)
Verification is also fairly straightforward and quick, with Binance responding promptly to the submission of verification documents. That said, taking a selfie while holding up an ID document and a piece of paper with "Binance" and the date written on it is a very tricky maneuver.
Without verifying your profile, you will be limited to withdraw up to 2 BTC per day. After verification, you will be capable of withdrawing up to 100 BTC daily. Even without profile verification, the exchange's security systems may trigger mandatory verification upon funds withdrawal, which has happened to several unverified customers before.
As such, Binance is not a recommended exchange for users seeking to strengthen their online security with privacy.


Binance Trading Fees
Depositing funds is entirely free with Binance. It is, however, a slightly different story with trades and withdrawals, although these remain among the cheapest in the crypto industry.
Binance takes a 0.1% cut of every trade that takes place on its trading platform, making it one of the cheaper crypto exchanges on the web. As such, 0.1% trading fees apply to both spot trading and margin trading For example, Coinbase Pro charges 0.5% for any trade, while Bittrex charges 0.2% fee per trade. Other popular altcoin exchanges like KuCoin and HitBTC charge similar rates. KuCoin matches Binance's trading rate of 0.1% per trade, while HitBTC charges 0.1% for market makers and 0.2% per trade for taking orders. Exchanges like Poloniex or Kraken are more expensive, too, as they are 0.15%-0.16% maker fee and 0.25%-0.26% taker fee.
You can also get significant trading fee discounts for using Binance Coin (BNB) (up to 25%), referring friends (up to 25%). Together, they make Binance one of the cheapest exchanges in the industry.

Low trading fees also apply to Binance Futures. At the most basic level (VIP 0), you will pay 0.02% maker fee and 0.04% taker fee.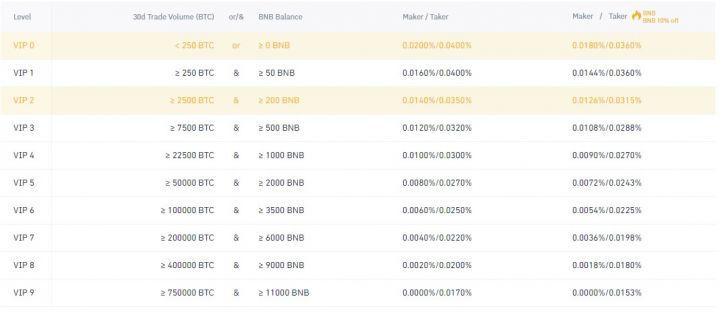 Another key factor to look at when evaluating Binance's fees is futures funding rate and margin position daily interest rate. These tend to change based on market conditions, and there are no fixed rates, so be sure to check them regularly at Binance's website here and here.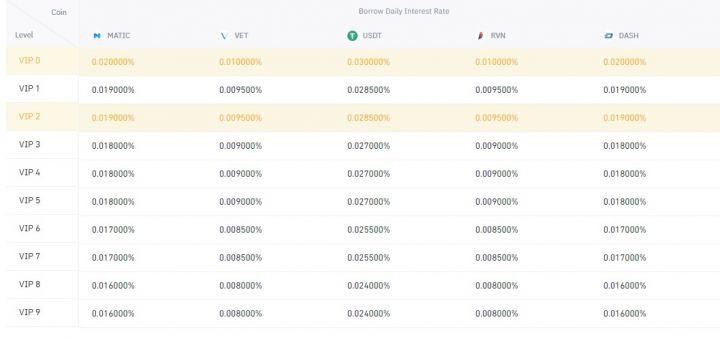 Last but not least, there are deposit and withdrawal fees. Cryptocurrency deposits free for all 180+ coins supported by Binance. With withdrawals, Binance offers remarkably good value for money, although fees vary from cryptocurrency to cryptocurrency. A small sample of the fees for some of the more popular coins is shown below:
 
| Coin | Minimum Withdrawal | Withdrawal Fee |
| --- | --- | --- |
| Bitcoin (BTC) | 0.001 BTC | 0.0004 BTC |
| Bitcoin (BTC) - BEP2 | 0.0000044 BTC | 0.0000022 BTC |
| Ethereum (ETH) | 0.02 ETH | 0.003 ETH |
| Ethereum (ETH) - BEP2 | 0.00018 ETH | 0.000092 ETH |
| Litecoin (LTC) | 0.002 LTC | 0.001 LTC |
| Litecoin (LTC) - BEP2 | 0.00074 LTC | 0.00037 LTC |
| Monero (XMR) | 0.0002 XMR | 0.0001 XMR |
| Ripple (XRP) | 0.5 XRP | 0.25 XRP |
| Ripple (XRP)- BEP2 | 0.17 XRP | 0.083 XRP |
As you can see, Binance lets its users withdraw either regular or BEP2 versions of their assets. BEP2 withdrawals are based on Binance Chain and use not an actual crypto asset, but a pegged BEP2 version of it.
To put these fees in some perspective, Kraken and Bittrex both charge a 0.0005 BTC withdrawal fee, while Bitfinex and HitBTC charge 0.0004 BTC and 0.001 BTC respectively.
Although Binance does not have any fiat-to-crypto trading pairs, it does facilitate fiat-to-crypto purchases using third-party service providers and integrations. Using Binance Fiat Gateway, you can buy and sell crypto with over 40 fiat currencies. The fees vary based on the payment method and floating exchange rates determined by Simplex, Koinal, TrustToken, BANXA, iDEAL, SEPA, Paxos, and other payment processors.
Typically, fiat gateway fees vary from 1% to 7% based on the chosen payment method and processor. Bank card transactions tend to cost more compared with other payment options.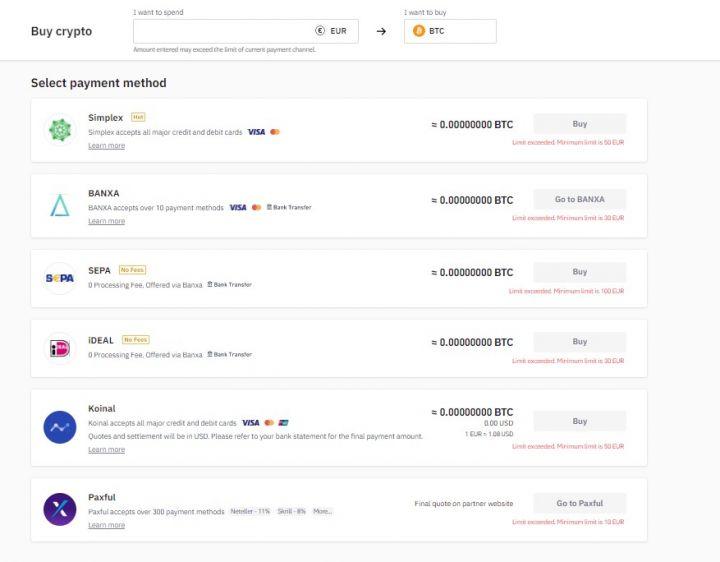 Overall, Binance charges some of the lowest fees in the industry, which is a major plus. Its extensive and ever-growing suite of services is available at reasonable prices, making it one of the most accessible, innovative, and convenient trading options out there.


Binance Security
Security at Binance is generally sound, although the exchange has experienced a significant hack in May of 2019. The exchange lost over 7000 BTC due to a number of compromised user accounts and used its #SAFU fund (Secure Asset Fund for Users) for user compensations. Since then, the exchange has strengthened its security by introducing the Universal 2nd Factor (U2F) authentication method and enhancing its exchange monitoring capabilities.
Besides, Binance encourages users to enable two-factor authentication (2FA) using either Google Authenticator or SMS authentication. Also, traders have an option to whitelist addresses and set up an anti-phishing code. It also has a fairly extensive security FAQ in its support section, where it advises its users on how to guard against phishing attempts and personal security lapses. Every withdrawal from Binance must be confirmed by email.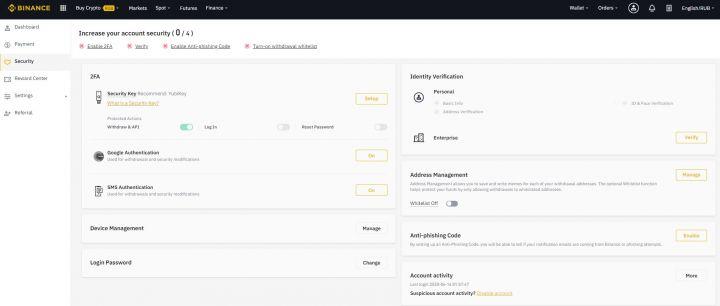 As of 2020, Binance boasts of having state-of-the-art artificial intelligence (AI) risk control solutions that use identity and facial recognition, big data analytics, and cyber forensic investigations to monitor each movement that takes place on the exchange and identifies suspicious and irregular activities.
That said, recent events have shown that Binance can respond quickly to significant threats and protect customers funds. For example, in March 2018, criminals managed to use phishing to hack into the accounts of numerous users, whose funds were inexplicably sold off in order to purchase the Viacoin (VIA) cryptocurrency. However, despite this, Binance was able to systematically identify and reverse all irregular trades, meaning that the only people to lose money were the hackers.
In July 2018, Binance has started a Secure Asset Fund for Users (SAFU) and allocates 10% of all trading fee revenue there. In the case of a successful hack, it is used to cover user losses like it was done in the May 2019 security breach. Later in 2019, the exchange also had a KYC data leak, which hackers have allegedly obtained from a 3rd party vendor.
According to CryptoCompare Exchange Benchmark Q4 2019 report, Binance is a solid A grade exchange. It makes it in the top 20 exchanges in terms of security grade, too, scoring an above-average 11.5 out of 20 possible points.
All in all, Binance is a secure exchange, but security is not its hallmark, and there is some room for improvements.


Exchange Usability and Design
Usability is one of Binance's key strengths. Its website and trading pages were revamped in 2019, and now are easy to understand and navigate for both beginners and experienced users.
It even provides the possibility of moving between Basic, Classic, and Advanced trading screens, so that more experienced traders can benefit from having more information (such as user funds) contained on a single page. In contrast, less experienced traders can make token swaps without an overwhelming array of windows and graphs.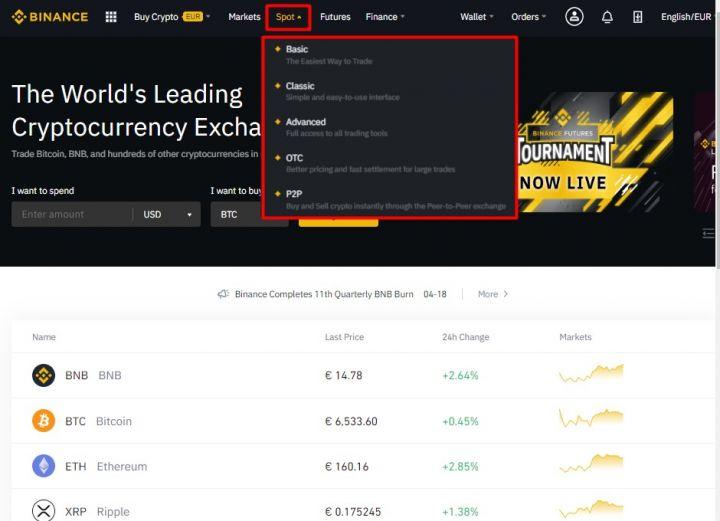 The basic interface is the easiest way to trade and consists of simple options to select two cryptocurrencies and make a conversion.


The classic mode is more advanced and brings back the "classic" look and feel of Binance exchange. It includes advanced order types, price and market depth charts, bid and ask order books, as well as trade history and open orders overview window. Besides, it allows you to trade with margin and options, and thus is suitable for more advanced retail investors.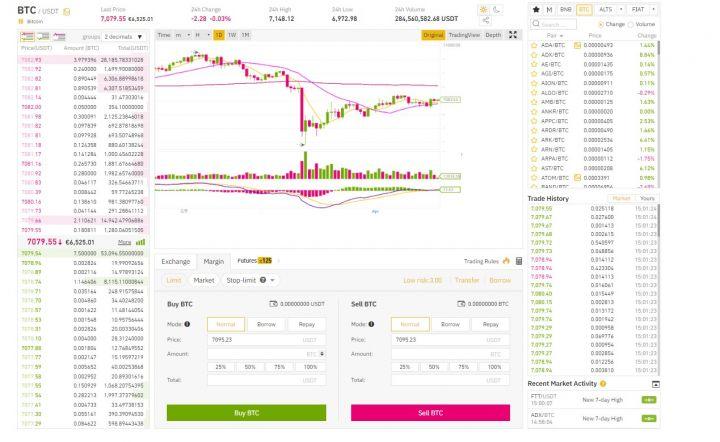 Last but not least, there is an advanced trading interface. It displays all of the same options as Classic view, but all windows are put together in a somewhat cleaner and tidier manner. It was the latest addition to the Binance's interface and has a modern feel to it.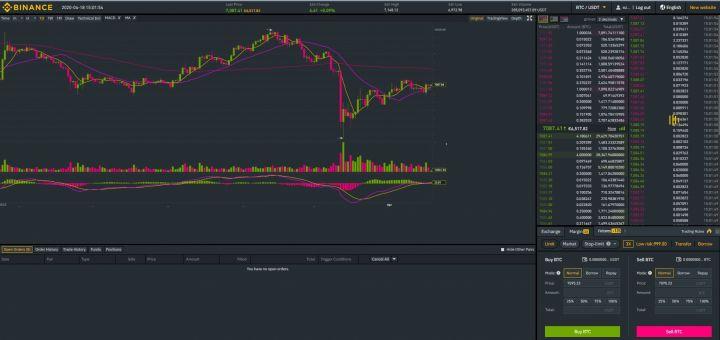 Next up, there's Binance's OTC (over-the-counter) trading portal for crypto whales, institutional investors, or large volume retail traders. Performing large trades via Binance OTC desk reduces the risk of slippage when the price in the regular order books is suddenly moved due to large transactions. The OTC desk does not have trading fees and has a quick settlement. The minimum trade size here is USD 10,000 plus. Also, you have to pass level 2 verification (KYC) to be eligible for such trades.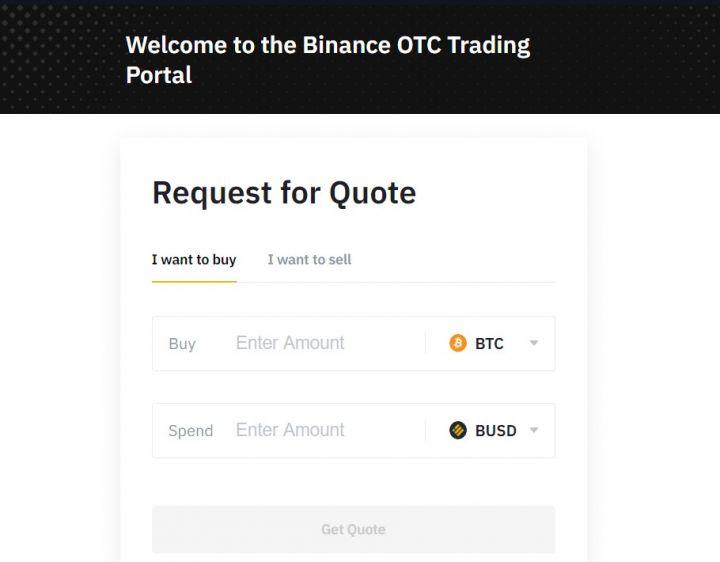 Lastly, Binance users can perform fiat-to-crypto trades via the Binance P2P marketplace. Here, traders from all over the world can file an application and become Binance P2P merchants or buy tether (USDT), bitcoin (BTC), Binance USD (BUSD), ether (ETH), and EOS with fiat currencies. Currently supported payment methods include Bank Transfers, WeChat, Alipay, and QIWI.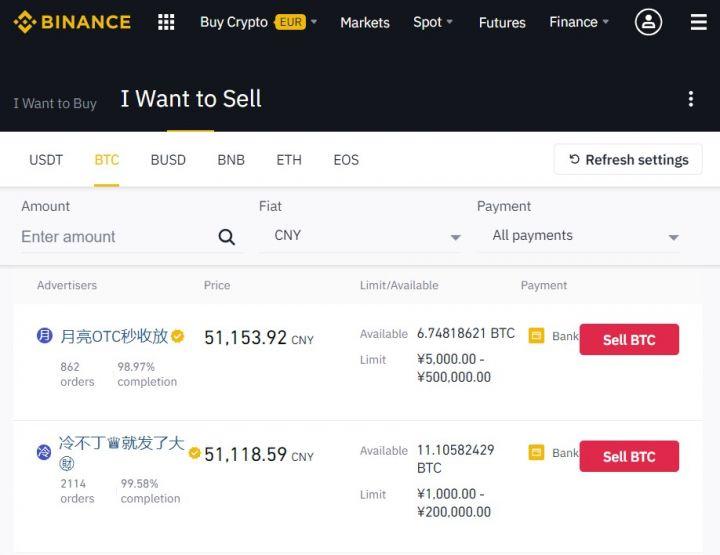 Buying cryptocurrencies with fiat via Binance is relatively easy, too. All you have to do is navigate to the "Buy Crypto" section and choose one of the available options.
Binance Fiat Gateway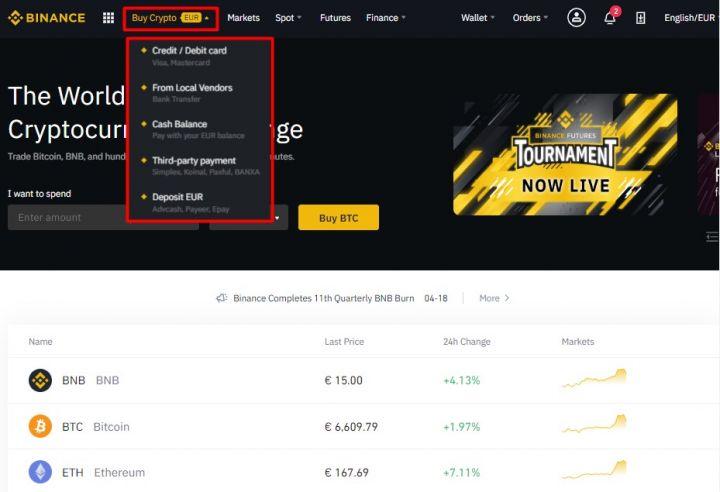 Binance fiat-to-crypto gateway currently lets you buy bitcoin and other cryptocurrencies via a bank card using 40 traditional currencies:
United States Dollar (USD)
Euro (EUR) (also sell)
British Pound (GBP) (also sell)
Australian Dollar (AUD) (also sell)
Chinese Yuan (CNY) (also sell)
Canadian Dollar (CAD) (also sell)
United Arab Emirates Dirham (AED)
Argentine Peso (ARS) (also sell)
Bulgarian Lev (BGN)
Brazilian Real (BRL) (also sell)
Swiss Franc (CHF)
Colombian Peso (COP) (also sell)
Czech Koruna (CZK)
Danish Krone (DKK)
Hong Kong Dollar (HKD) (also sell)
Croatian Kuna (HRK)
Hungarian Forint (HUF)
Indonesian Rupiah (IDR)
Israeli New Shekel (ILS)
Indian Rupee (INR) (also sell)
Japanese Yen (JPY)
Kenyan Shilling (KES) (also sell)
South Korean Won (KRW)
Kazakhstani Tenge (KZT) (also sell)
Mexican Peso (MXN) (also sell)
Malaysian Ringgit (MYR) (also sell)
Nigerian Naira (NGN) (also sell)
Norwegian Krone (NOK)
New Zealand Dollar (NZD)
Peruvian Sol (PEN) (also sell)
Poland Zloty (PLN)
Romanian Leu (RON)
Russian Ruble (RUB) (also sell)
Swedish Krona (SEK)
Thai Baht (THB)
Taiwan Dollar (TWD)
Turkish Lira (TRY) (also sell)
Ukrainian Hryvnia (UAH) (also sell)
Vietnamese Dong (VND) (also sell)
South African Rand (ZAR) (also sell)
With those currencies, you can buy and sell 15 cryptocurrencies instantly: Bitcoin (BTC), Binance Coin (BNB), Binance USD (BUSD), Ethereum (ETH), Ripple (XRP), Bitcoin Cash (BCH), Basic Attention Token (BAT), Dash (DASH), EOS (EOS), Litecoin (LTC), NANO (NANO), Paxos Standard (PAX), Tron (TRX), TrueUSD (TUSD), and Tether (USDT).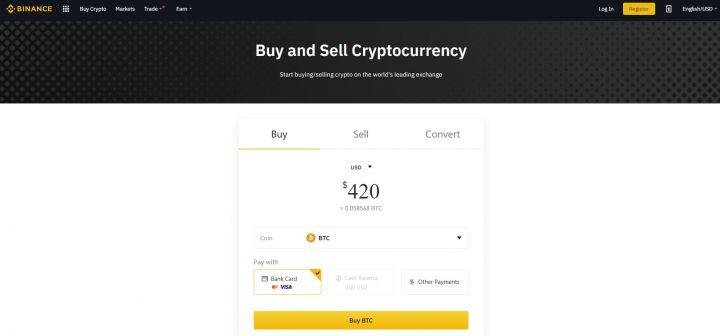 The Binance Fiat Gateway is a result of a growing number of third-party partnerships with some of the top crypto companies in the industry. The current list of Binance fiat partners includes Simplex, Koinal, TrustToken, Paxos, Banxa, SEPA and iDEAL, but more companies are likely to join in the future. Also, payment methods differ based on your geographic location.
In addition, you can deposit fiat currencies into the platform using a Visa or Mastercard bank card, Advcash Wallet, Epay Wallet, Payeer Wallet, and more.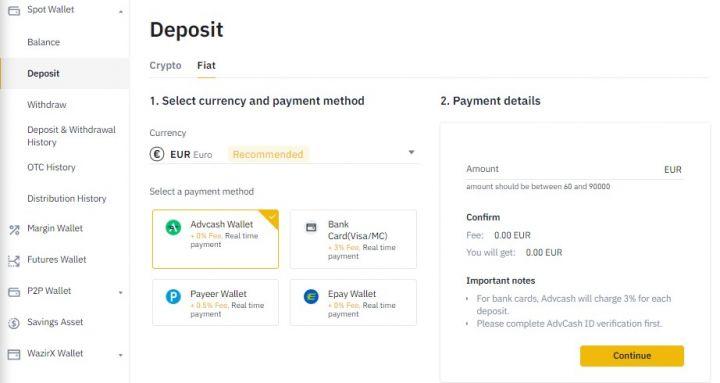 The current gateway infrastructure also allows you to convert cryptocurrencies. For instance, you can exchange your dollar-denominated stablecoins (like PAX or TUSD) into actual US dollars.


Binance Futures, Margin Trading, and Options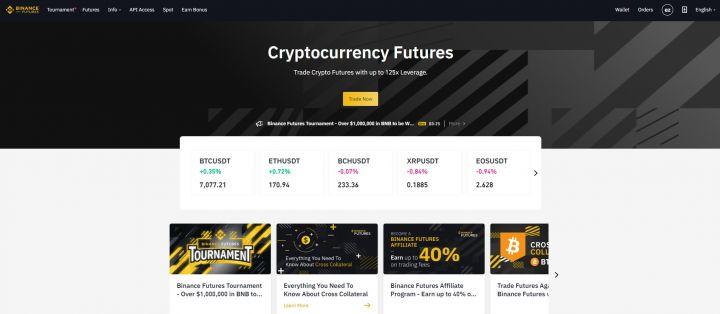 Binance has developed several different options for trading with leverage. Its spot trading exchange has a separate feature for margin trading certain cryptocurrencies with up to 3x leverage. At the same time, it has launched an integrated Binance Futures platform, which allows you to trade options with up to 125x leverage.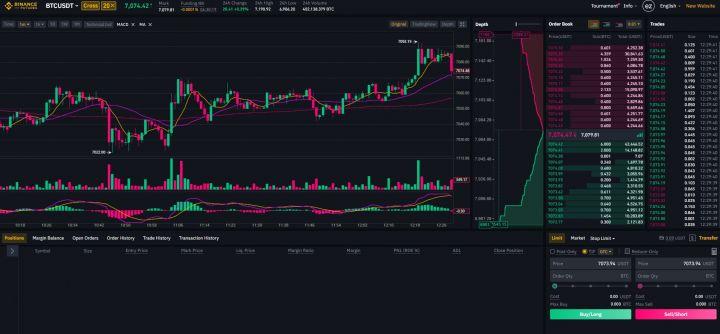 But what is the key difference between these modes of trading?
Aside from a significant difference in leverage, the two types of trading are fundamentally different:
In margin trading, the exchange, in this case, Binance or its users, are lending you the extra funds needed for opening a 1:3 leveraged position. You are charged a usual 0.1% trading fee, as well as an ever-changing daily interest fee.
Binance Futures allow 1:125 leverage. Here you don't buy cryptocurrencies directly, but only a contract representation of a commodity. Also, unlike traditional futures, Binance Futures do not have an expiry date, so their trading is very similar to trading pairs on the spot market. At pixel time, Binance Futures support 24 USDT-denominated perpetual contracts. In addition to the trading fee, you also pay a periodic funding fee.
Binance Options. An option is another type of perpetual contract. Binance Options is an American style options contract, thus granting traders the option to execute the contract any time prior to the expiration date. The expiration dates range from 10 minutes to 1 day.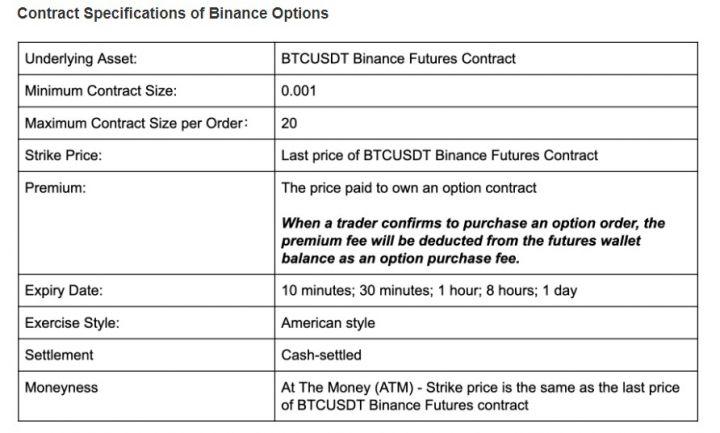 Binance Finance
In addition to the spot, margin, futures trading, and ability to buy and sell bitcoin and other 180 cryptocurrencies with fiat, Binance has also developed a suite of financial services that are accessible for every registered and verified user. These include:
Binance Savings. Binance savings is a product that lets you earn cryptocurrency by staking assets for either short (flexible) or long (locked) term. Staking assets in a flexible manner gets you a little bit more than a 1% annual yield while locking in your assets for a while can get you up to 15% per year.
Binance Staking. Another alternative way to earn money while holding, staking is currently used by numerous protocols. At the moment, Binance lets you stake nine cryptocurrencies, and the estimated annual yield varies from 1% to 16%.
Binance Debit Card. Binance introduced its Binance Card, which is set to allow you to make crypto purchases worldwide, just like a regular bank card.
Binance Crypto Loans. The latest addition to Finance section, crypto loans by Binance exchange, let you borrow stablecoins like USDT or BUSD for a certain period by using crypto collateral.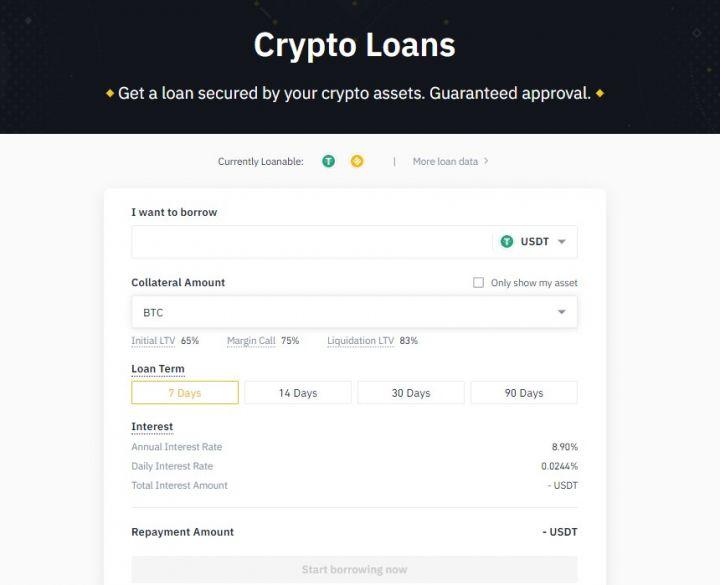 While some of these features are handier than others, Binance's Finance product range is set to grow in the future, as it remains to be seen what kind of other innovative services the exchange is going to introduce for the global crypto community.
Binance Launchpad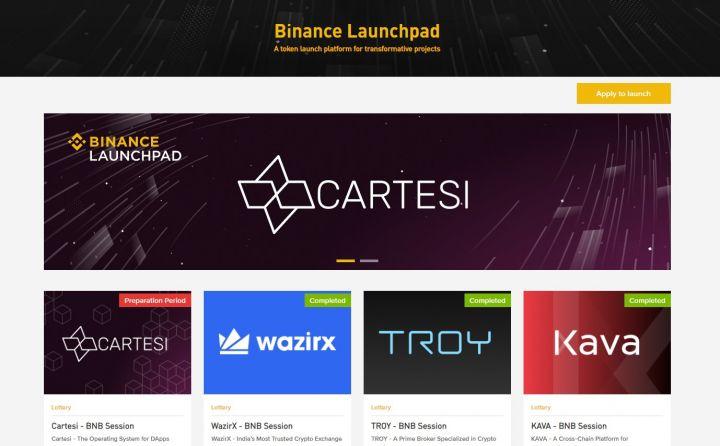 Binance users can also access the first and one of the best IEO (initial exchange offering) launchpads out there - Binance Launchpad. Since late 2017, Binance started to mediate between IEO buyers and sellers and has launched 14 successful IEO projects.
IEO participants have to hold at least some BNB (Binance Coin) but also have some luck in the lottery, which determines in what order the participants get the opportunity to buy the new coins.
Binance Launchpad's average ROI (return on investment) is the highest out of all other exchanges, so it might be worthy of checking out.


Customer Support
As for customer support, Binance has a comprehensive support center with an extensive FAQ base. Apart from that, you can also submit a request for the Binance support team or ask the community's help in official Telegram, Facebook, or Twitter groups.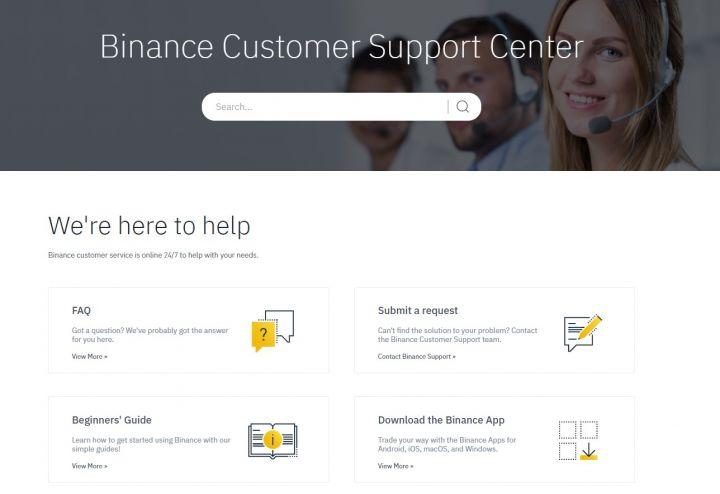 It should be noted that Binance doesn't offer a phone number for customers to call with their queries. This can make Binance a little less responsive than other exchanges, and while their online support system is often quick, it can get bogged down a little during periods of peak demand.
Binance Apps
Binance trading is accessible via multiple devices. The most common option is Binance's web platform, where you can enjoy all of the benefits and services listed above.
Alternatively, you can download Binance's mobile app for either Android or iOS. Both mobile apps allow you to access most of the features of the web platform, including fiat gateway, Binance Futures, Binance Options, spot trading, margin trading, P2P trading, and more.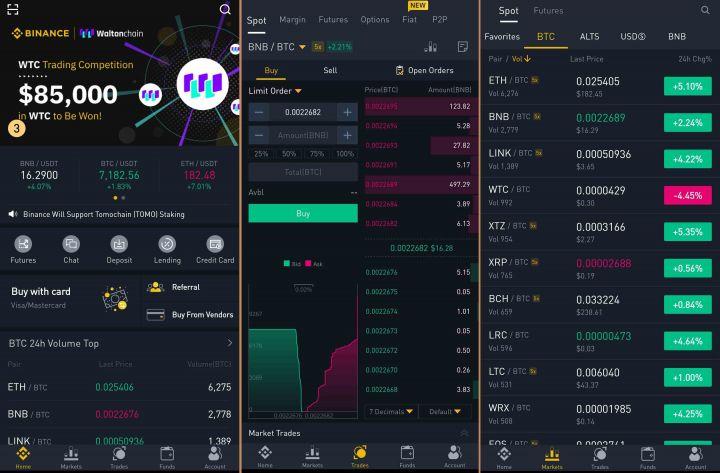 Binance is also one of a few cryptocurrency exchanges that have its desktop trading application for both macOS and Windows. Both apps offer better performance but have less integrated features than the web platform.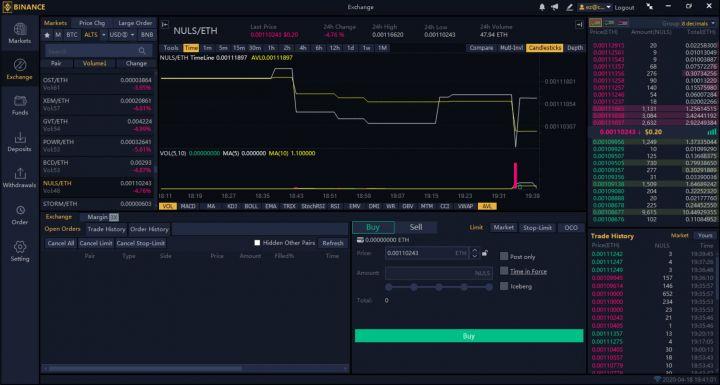 As you can observe, Binance is an easy to use exchange with a wide array of easily accessible features for both new and experienced retail investors. Asides from that, it's worth to mention that Binance's international traders community is often rewarded with various contests and competitions with valuable rewards.
As such, Binance remains one of the most accessible and easy to use exchanges in the industry.


Deposit and Withdrawal Methods
Given that Binance offers only crypto-to-crypto markets, all deposits and withdrawals involve moving funds to and from external crypto wallets.
This doesn't apply for fiat-to-crypto purchases and deposits via third-party service providers, though, as they come with their own service fees that range from 1% to up to 7%. For example, you can make EUR deposits using:
Simplex (VISA and Mastercard)
SEPA bank transfer
iDeal bank transfer
BANXA (bank cards and bank transfers)
Koinal (VISA, Mastercard, and other major card processors)
Paxful (300+ payment methods)
Supported fiat deposit and withdrawal methods differ for every fiat currency.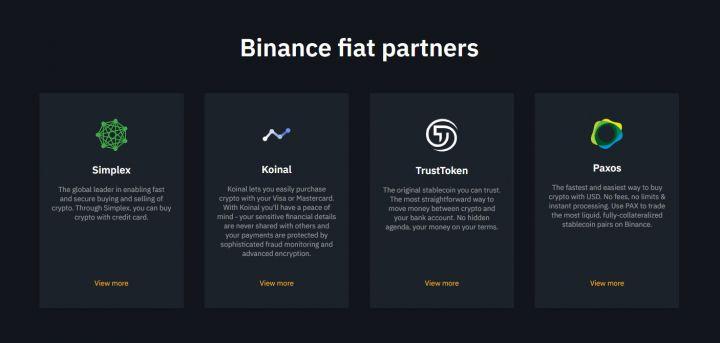 Crypto withdrawals are a speedy process on Binance. To withdraw your crypto holdings, hover over the "Funds" dropdown menu, click the "Deposits" option, for example, and then type in the desired cryptocurrency to receive a Binance wallet address into which they can deposit it.
 
Conclusion
In this Binance review, we learned that Binance is exceptionally keen on experimenting and pushing cryptocurrency services forward. The exchange offers some of the lowest trading fees possible, and although it does provide fiat-to-crypto market pairs, it still provides an ability to buy and sell bitcoin and other 180 altcoins for fiat. On the one hand, it provides futures, options, and margin trading for more risk-tolerant users, while on the other, there are savings and staking programs for more risk-averse traders. The only area lacking praise would be privacy measures, which is a complicated issue in the current regulatory environment. Overall, Binance offers an excellent suite of services for all sorts of cryptocurrency users.
Summary
Web address:

 Binance

Support contact:

 Link

Main location:

 Malta

Daily volume:

 366404 BTC

Mobile app available:

 Yes

Is decentralized:

 No
Parent Company:

 Binance Holding

Transfer types:

 Bank Transfer, Credit Card, Debit Card, Crypto Transfer

Supported fiat:

 -

Supported pairs:

 563

Has token:

 Binance Coin BNB

Fees:

 Very Low